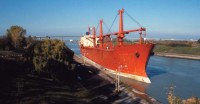 World Trade Center Buffalo Niagara (WTCBN) hosted an informative event and webinar on import compliance on February 19th, 2015. The program featured speakers Damon Piatek of Welke Customs Brokers USA and Peter Russell from U.S. Customs and Border Protection. Attendees received information on ways to save money on their import procedures and resources from U.S. Customs to stay up-to-date on policies and procedures.
Here are some resources and important information to be aware of if you import:
ACE (Automated Commercial Environment) is being built to replace ACS by the end of 2016 and will become the Single Window through which the trade will file and the government will process data related to imports and exports
October 1, 2016 - ACE will be mandatory for all remaining electronic portions of the CBP cargo process
CBP.gov/ace

Links to more detail on ACE
Cargo Systems Messaging Service (CSMS) - sign up to receive updates on ACE
Do you import a high volume of goods? Use of the Foreign Trade Zone (FTZ) could defer duties and other costs. Click here for more information about FTZs in Erie County.
Contact WTCBN for more information on these resources and on importing.