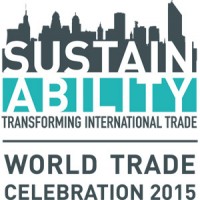 May 20th, 2015 in Niagara Falls, NY: World Trade Center Buffalo Niagara's annual event celebrating international trade will focus on global sustainability, a crucial concern for both organizations and individuals. The event will feature a luncheon panel with breakout programs before the keynote presentation highlighting local sustainability efforts and resources. Topics for this event include:
Supply Chain Management
Water/Resource Management
Creating a Sustainability Plan
The keynote presentation will focus on global sustainability, how local actions make a global impact and why it is important no mater what industry you are involved in or the size or your organization. The event will include a gala networking reception and local company showcase highlighting sustainability in the region.
Click here for more details and to register.
---
Sponsorships are available: Being involved in Buffalo-Niagara's highest profile business event of the year. World Trade Celebration attracts an average of 500 international business professionals from various industries including the region's leaders in manufacturing, technology and government from New York State and Southern Ontario, Canada. These attendees will be attending in 2015 and seeing your message and company at the event. Please contact us for more information.
---
World Trade Center Buffalo Niagara (WTCBN) is a not-for-profit corporation whose mission is to build economic vitality through global trade. WTCBN provides vital trade services to support companies in the Upstate New York and Southern Ontario binational region. Support to our members includes consulting, education and training, along with worldwide membership affiliation with the international World Trade Centers Association comprised of over 330 World Trade Centers located in 90 countries.